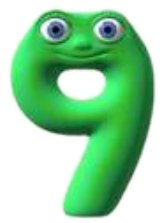 Nine (9) is the biggest Numberjack. She is green with anthony eyes.
Appearances
Edit
Getting Heavy (debut)
Nine Lives
Zero The Hero
Into The Teens
1, 2, 3, Go
Two, Four, Six, Eight
Square Dancing
Counting Down To Christmas (cameo)
Seaside Adventure
Ups and Downs (cameo)
Wee Three Phone Home
A Record In The Charts
A Different Sort
More Ways Than One
Hundreds and Thousands (cameo)
Ad blocker interference detected!
Wikia is a free-to-use site that makes money from advertising. We have a modified experience for viewers using ad blockers

Wikia is not accessible if you've made further modifications. Remove the custom ad blocker rule(s) and the page will load as expected.